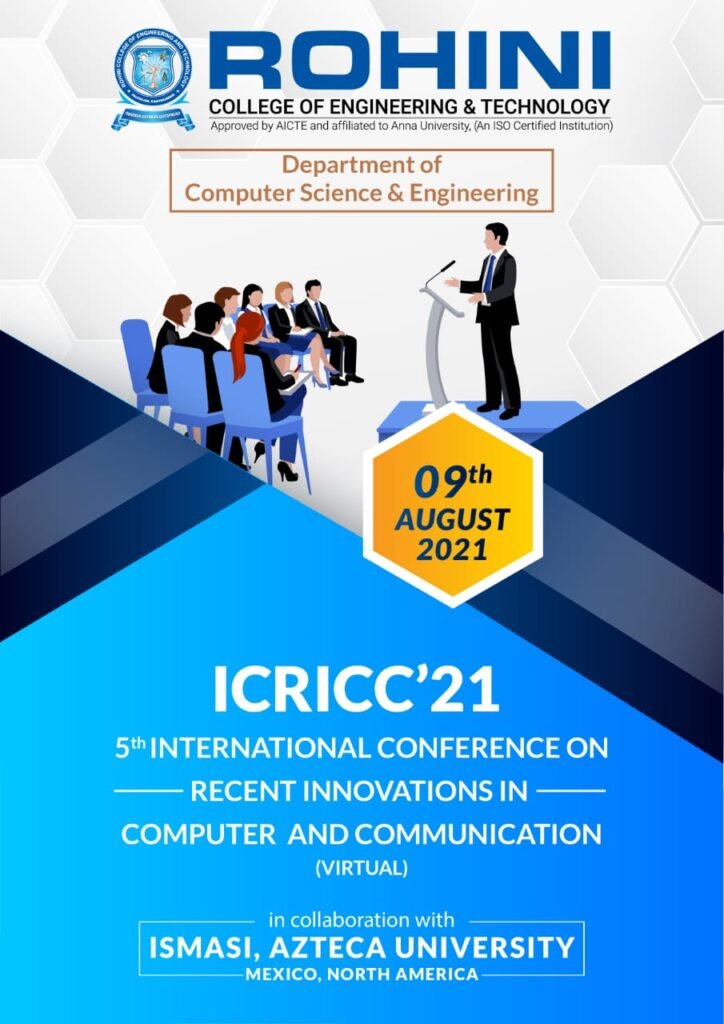 The Department of Computer Science and Engineering organized a virtual International Conference on Recent Innovations In Computer And Communication, Intelligent Computing and Communication ICRICC – 2021 on 9th August, 2021. The program was started with Tamil thai Vaazhthu.
The welcome address was given by the Conference Co-Chair R.Vahitha.K.Thangam ,followed by presidential address given by Dr.R.Rajesh, Principal of Rohini College of Engineering and Technology, The General Chair.
The inaugural address was given by Dr.P.K.Paul, Scientist Raiganj University. Then the conference presentation was started with chair persons and persons via zoom cloud meeting.
The Chair Persons for the day were Dr Ricardo Saavedra Hidalgo,Director & Chair International Inter-University Programs,Azteca University México, America, Prof. Damodar Gurrapu, Vice Chancellor, Chaitanya Deemed to be University, Dr. Krishna Prasad K., Associate Professor & Director (Research Council), College of Computer and Information Sciences, Srinivas University,and Dr. Rajdeeep Chakrabory, Asst. Professor,Dept. of Computer Science and Engineering,Netaji Subhash Engineering College.
Prof. Damodar Gurrapu has delivered a key note address about "Changing Scenario of Digital Education " Dr. Krishna Prasad K., has explained about 6G Mobile Communication Technology, Dr. Rajdeeep Chakrabory, gave a brief note about the Cryptocurrency: Understanding, CaseStudies &Trends.
About 100 participants from various colleges participated via zoom cloud meeting and the papers were presented in front of the judges Dr.V.Ram Prabha, V.V Engineering college and Dr.Babu Renga Rajan, PET Engineering college . The event was well hosted by Prof.A.Haseena Beevi.
The event came to an end with the felicitation by the honorable judges. Then vote of thanks was given by Prof. R. Meenakshiammal.